Summary of SRI organized event on the Decriminalization of Abortion during the 24th session of the HRC
Published on September 20, 2013
To commemorate the 2013 Global Day of Action for the Decriminalization of Abortion (September 28th), the Sexual Rights Initiative organized an event that took place during the 24th session of the UN Human Rights Council to discuss the realization of women's human rights, specifically women's right to access safe and legal abortion, including through the decriminalization of abortion. Being one of the first events on the topic at the Council, it represents a ground-breaking moment in its history. Widely attended by over 30 representatives from Member States – making up half of the audience, UN agencies, civil society, women human rights defenders and academics, they assessed the human rights implications of the criminalization of abortion and explored strategies to strengthen government accountability and responsibility in respecting, protecting and guaranteeing women's reproductive and human rights.
Organized by the Sexual Rights Initiative, the event was co-sponsored by the Governments of Uruguay, Finland and the Netherlands, Action Canada for Population and Development, the Polish Federation for Women and Family Planning, CREA (India) and the Center for Reproductive Rights. It was moderated by Neha Sood, representing Action Canada for Population and Development and the Sexual Rights Initiative. Panelists included H.E. Laura Dupuy Lasserre, Permanent Representative of Uruguay, Professor Marleen Temmerman, Director of the Department of Reproductive Health and Research at the World Health Organization, Mona Rishmawi, Chief of the Rule of Law, Equality and Non-Discrimination Branch, Research and Right to Development Division at the Office of the High Commissioner for Human Rights, Madeleine Rees, Secretary General of the Women's International League for Peace and Freedom, Krystyna Kacpura, Sexual Rights Initiative and Federation for Women and Family Planning (Poland) and Stuart Halford, representing the Center for Reproductive Rights.
Sood set the stage for the discussion acknowledging women's right to safe and legal abortion as embedded in women's fundamental human rights. One country which has recognized this right is Uruguay. Representing the government at the event was H.E. Laura Dupuy Lasserre who shared an overview of the legal context surrounding the issue of abortion, in Uruguay, leading to its decriminalization in 2012. In the current context, all Uruguayan women are entitled to access abortion services, and in cases of providers' conscientious objection to provide the service, women must be directed to alternate providers. Accompanying the 2012 legislation, the government instituted relevant training, including to secondary school teachers, social support services, and the provision of the service free of charge for women between the ages of 15 and 44. While, according to Lasserre, women's access to abortion is critical it must be accompanied by access to sexual and reproductive health information, access to quality contraceptives and universal access to sexual and reproductive health services. Recognizing that challenges persist, particularly ensuring that the government can provide quality services for everybody from a human rights perspective, Lasserre is "proud to affirm that Uruguay has been able to shorten the inequity gap in favor of women's health. There has been no single death since the approval and implementation of our legislation, and Uruguay has the lowest maternal mortality rate of the region."
Marleen Temmerman, Director of the Department of Reproductive Health and Research, World Health Organization, recognized the decriminalization of abortion as an important step towards the realization of women's human rights and the elimination of unsafe abortion. Recognizing safe abortion as connected to the rights to life, liberty and security of the person, education and information, as well as reproductive rights, Temmerman drew attention to the many other barriers faced by women, when attempting to access abortion services – regardless of the legal context. Such barriers include financial and administrative (including requirements for third-party authorization, mandatory waiting periods, restrictions on public funding, among others), age (young women's access to reliable contraceptives, without parental or spousal consent), class (women with access to resources are more likely to be able to obtain safe abortion services where it is illegal or inaccessible) and legal restrictions (including the criminalization of women who access abortion services, among other limitations). Overcoming such barriers requires that governments remove "regulatory, policy and programmatic barriers that hinder access to and timely provision of safe abortion care." Temmerman highlighted resources developed by the World Health Organization (WHO) including the 'Safe Abortion: technical and policy guidance for health systems,' which can support governments in developing and implementing policies that protect, respect and fulfill women's human rights, specifically their reproductive rights.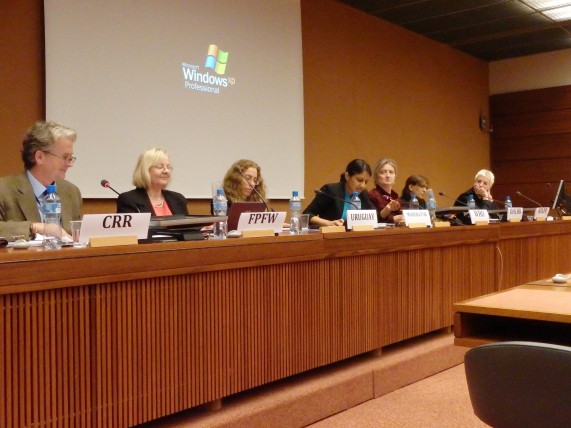 Expanding the toolbox of resources available to governments and national-level organizations and advocates are the advances made within the UN system. Mona Rishmawi, Chief of the Rule of Law, Equality and Non-Discrimination Branch, Research and Right to Development Division of the OHCHR examined the Human Rights Committee General Comment 28, which expresses that laws which place a duty on health professionals "to report cases of women who have undergone abortion fail to respect women's privacy relating to their reproductive functions"[1] and the CEDAW Committee's General Comment 24 which calls on governments to amend legislation which criminalizes abortion and remove punitive provisions imposed on women who undergo abortion."[2] Similarly, this year, the Committee on the Convention on Economic, Social and Cultural Rights (CESCR) urged one state to "revise its laws in order to reduce the scope and the severity of the punishment of abortion and to facilitate access to professional medical services with a view to eliminating the practice of unsafe abortions that place the lives of women and girls at risk." Rishmawi then drew attention to role of HRC jurisprudence in contexts where criminal laws and restrictions regarding abortion were found to be a form of gender discrimination. Regarding the work of Special Rapporteurs, Rishmawi recalled reports produced by the Special Rapporteurs on the right to health, torture and violence against women, which call for the decriminalization of abortion and the realization of women's right to health, in part, through the elimination of unsafe abortion. Reiterating the importance of this issue within the OHCHR, Rishmawi spoke of the reports and technical guidance produced on preventable maternal mortality and morbidity and quoted the High Commissioner, stating that "States must take steps to eliminate such barriers to the provision of abortion services and that lead women to resort to unsafe abortions, including eliminating unacceptable delays in providing medical attention; the existence of laws that require health personnel to report women who undergo abortion; and requirements for third-party consent for a woman to obtain abortion, even when her life is in danger. They must organize health services so that the exercise of conscientious objection by health professionals does not prevent women from obtaining access to health services."
Madeleine Rees, Secretary General, Women's International League for Peace and Freedom, translated the legal and policy context into women and girls' experiences, particularly within the humanitarian context. According to Rees, the issue of abortion is highly gendered in that, for example, women's bodies become the object of public opinion and state interference. Rees emphasized that the issue of abortion is complex as it is connected to religion, culture, life, death and babies. For Rees, a strong legal framework is therefore essential to remaining objective. Most at stake when women lack access to safe and legal abortion is their lack of agency. Women's agency in conflict situations, specifically when subjected to sexual violence, comes under great threat, as well as their right to life, right to live free from violence, and, if abortion is illegal, their reproductive rights. In such contexts, Rees says rape is used as a war crime and enforced pregnancy as a misogynistic weapon of war that objectifies women, turning them into an incubator for the seed of the victor. Rees therefore calls for the amendment of laws to provide access to abortion in cases of pregnancies result from rape. The same must be applied to external stakeholders, including donors, who have a role in providing women with humanitarian assistance and essential health services. Such services must include access to safe abortion services, as part of a comprehensive package of sexual and reproductive health services in conflict situations.
Broadening beyond conflict situations, Stuart Halford, representing the Center for Reproductive Rights, examined the negative impacts of restrictive abortion laws over the past 20 years, specifically since the 1994 International Conference on Population and Development (ICPD). Since 1994, 30 states across the globe have liberalized their abortion laws, while just a small handful have done the opposite. According to Halford, these global legal trends demonstrate that there is increasing recognition that unsafe abortion constitutes a serious human rights violation, which states must take proactive measures to address. As made reference to by Marlene Temmerman, there are over 22 million unsafe abortions performed each year, resulting in 47,000 deaths and 5 million women suffering disabilities. Legal restrictions on abortion are often the cause of high levels of illegal and unsafe abortion, and there is a well-established link between unsafe abortion and maternal mortality. Additionally, where criminal penalties for illegal abortion are zealously enforced, women seeking emergency obstetric care or suffering from pregnancy-related complications become shrouded in suspicion, accused of having illegally terminated a pregnancy, and may be either mistreated in accessing or completely denied the healthcare they need. Halford discussed the example of the case of Manuela v. El Salvador, filed in 2012 by the Center for Reproductive Rights and currently pending before the Inter-American Commission on Human Rights, which demonstrates the harmful effects that criminal penalties on abortion have on women requiring urgent medical care during pregnancy. Halford also referenced the current situation in Ireland, currently only allows abortion where there is a "real and substantial" risk to the woman's life, as distinct from her health, which leaves doctors unable and unwilling to provide abortion services even when they believe a woman's life is at risk, out of fear of criminal prosecution.
Providing a perspective from the Central and Eastern European context, Krystyna Kacpura, representing the Sexual Rights Initiative and the Federation for Women and Family Planning (Poland), discussed the issue of abortion in the region. According to Kacpura, "substantial growth of religious extremism troubles the region and poses a major challenge to the realisation of the sexual and reproductive health and rights of women. Recent developments from Macedonia, Poland, Lithuania – to mention only few – clearly show how serious the threats to women's right to health are." In Poland abortion is criminalized, with exceptions in cases of threat to women's health or life; when pregnancy is a result of a crime and in cases of severe foetus malformation. This law also punishes service providers, which means many doctors refuse to perform legal abortion in fear of being accused of inappropriate assessment and being charged. Additionally, misuse of conscientious objection can be observed as even whole hospitals use it, also due to the heavy pressure of the anti-abortion groups. The law also punished anyone who "convinced" or in any way helped the woman terminate pregnancy. In Macedonia, a recent law requires women to provide a written request by the woman to terminate the pregnancy; written consent for the intervention by the woman; mandatory pre-abortion counselling and 3-day waiting period for counseling; certificate from a specialist gynecologist, including ultrasound. Restrictive abortion laws, according to Kacpura, do not generate lower abortion rates, they only drive the market for the underground procedures, thus increase heavily the risk to women's life, health and safety and amplify the rates of unsafe abortions.
"With the 2014 and 2015 fast approaching and the post-2015 development agenda finalising stages, now is the time to unite and demand the full decriminalisation of abortion and implementing reproductive justice globally by providing effective access to legal and safe abortion for women in every corner of the world. Let's move forward, not backwards!"
Following these presentations, attendees engaged in discussion. Many interventions recognized the disconnect between restrictive abortion laws and international human rights standards, emphasizing governments are failing to meet their human rights obligations. Similarly, attendees highlighted that where abortion is against the law, or significant barriers exist which prevent women from accessing safe and legal abortion, abortion becomes unsafe. This is particularly the case for young women, women living in rural areas, among other vulnerable populations. A representative from CREA, India, emphasized the need to look at the issue more broadly, situating women's access to safe and legal abortion within the social, cultural and economic contexts. Similarly, the OHCHR acknowledged that addressing the issue requires the elimination of gender-based discrimination and violence, through the realization of the full range of women's human rights. Widely agreed to was the observation that governments are obligated to provide a comprehensive and integrated package of sexual and reproductive health services and information, which includes abortion services that are of the highest quality and affordable, alongside access to comprehensive sexuality education and counseling and a full range of contraceptives. According to Halford, a woman's right to decide the number and spacing of her children includes access to family planning services, and access to medications on WHO's list of essential medicines, which lists emergency contraception; this is difficult for the most vulnerable women. Sood reiterated that the infringement of the right to safe and legal abortion is steeped in gender inequality, reminding the audience of feminist activist, Florynce Rae Kennedy's words, "if men could get pregnant, abortion would be a sacrament."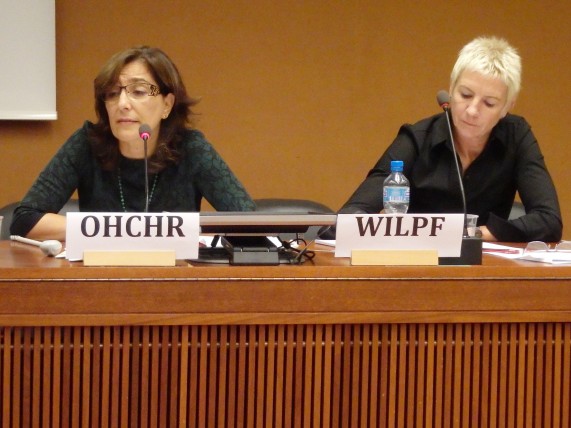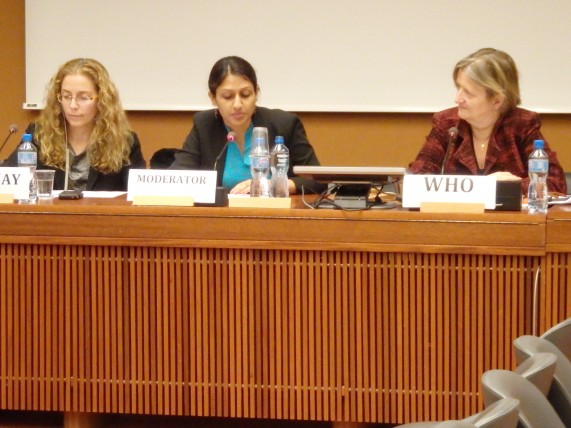 [1] Human Rights Committee, General Comment 28, para 20.
[2] CEDAW, General Recommendation 24, para 31 (c). See also the Beijing Platform of Action, para 106 (k).