SRI partner CREA launches new feminist toolkit
Published on May 28, 2014
CREA is happy to announce the release of its new publication: Achieving Transformative Feminist Leadership: A Toolkit for Organisations and Movements.
The Toolkit aims to help individuals and organisations dedicated to advancing a feminist social change agenda–an agenda based on the belief that all development and social justice must be rooted in gender and social equality. The Toolkit is part of CREA's continuous endeavour to strengthen feminist leadership of women and grassroots organisations, seeking to further the transformative goals of the feminist movement.
Developed by Srilatha Batliwala, Scholar Associate, Association for Women's Rights in Development (AWID), and Michel Friedman, Senior Associate, Gender At Work, the Toolkit is based largely on the concept paper entitled Feminist Leadership for Social Transformation: Clearing the Conceptual Cloud by Srilatha Batliwala, published by CREA in 2011.
The Toolkit is intended to serve not just feminist organisations working on human rights and social justice issues, but also organisations that have programmes that focus on women or are led and staffed, wholly or in part, by women.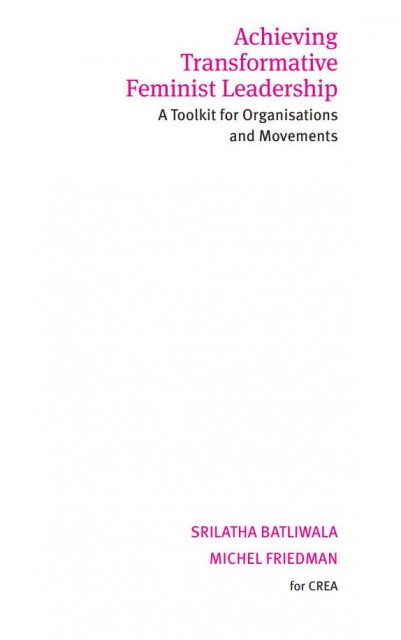 CREA resource The Toolkit aims to enable individuals and groups to:
Examine and analyse their own specific organisational setting and the nature of its leadership at different levels
Understand how their individual self and that of others is shaping their practice of leadership
Begin to think about how they may want to deal with these issues in order to bring their individual and organisational leadership practices more in harmony with the principles of transformative feminist leadership.
For free hard copies, please write to us at [email protected].
 
Click here to download the toolkit 
Source: CREA